Discover How the World's Leading Solar / Renewable Energy
Entrepreneur Built his Company…
Discover How One Man is Changing the World!

Meet one of the Excellerated Business School® for Entrepreneurs' Instructors, Huang Ming


---
Dear Fellow Entrepreneur,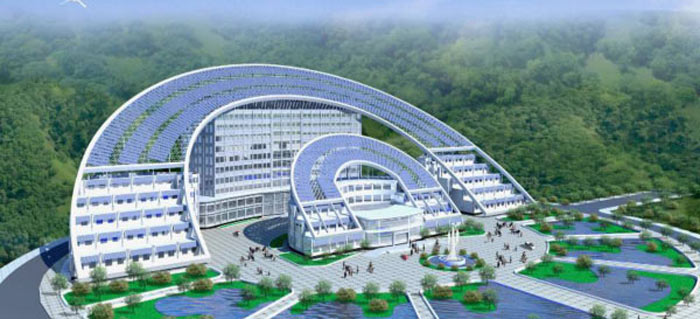 Meet Huang Ming, a simple man that has become extraordinary because he's an avid Social Entrepreneur that has built one of the most successful Solar/Renewable energy companies in the world: Read more about Huang Ming
His commitment is to have China and the entire world using Solar / Renewable energy.
We often have wonderful conversations... And when I am speaking with him, I think to myself... how often do we meet a "billionaire with heart"? I am always so interested in hearing his "patterns of thinking" — what drives a person to have the only (so far) Solar Valley in the world — and have a town of over 7 million people (Dezhou, China—1 hr from Beijing in fast train) having 70% of the population using solar heating to heat their water? How did he go from being an engineer working for the Chinese government to enrolling Goldman Sachs to giving him US$ 100 million to create the Solar Valley?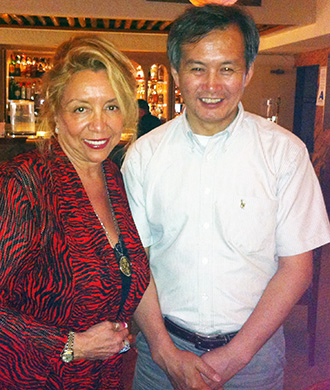 Not only is he a great guy, his commitment, his vision is contagious—and he has the facts to back him up. He often travels around the world to promote his vision of a "Solar Everything" world that will no longer be oil-dependent—especially since China has such a shortage of oil.
We recently had a conversation about him sharing some of his technology with South Africa—and other African countries—and possibly sharing what has China done to eradicate poverty with over 650 million people since 1992...
We got into a great discussion about our shared vision of a world free of hunger and poverty—and he said something profound: "it's a crime to take money from the poor" — they don't have any money—that's the very definition of poverty.
I personally like the definition that Lynne Twist shares in her The Soul of Money book: there are no poor people, only resource-poor people.
Then I had this brilliant idea that I should interview Huang Ming in a Webinar-style conference that could be seen and heard by as many people as possible so that they too could have an experience of a man that is so committed to something that's so important to so many people—and to hear his passion—and have him directly share his experiences (he speaks English very well) and for you to hear directly why "it's a crime to take money from the poor"...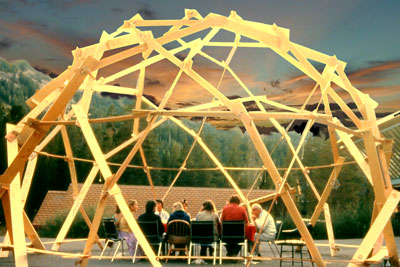 He didn't know about R. Buckminster Fuller—our beloved mentor. If he had been born after July 1, 1983 (when Bucky left this world), I would have said that he was a reincarnation of Bucky. The architecture of the Solar Valley is so spectacular, we know Bucky would have lived there. Bucky dreamed—had drawings of buildings that are like the ones at the Solar Valley.
When I gave Huang Ming a book with many of Bucky's drawings, models, and his vision of future architecture, Huang Ming was truly moved. He began to learn about his work—and was so moved that a person like Bucky had existed—and he didn't even know his work—yet, some of it is so similar—and their visions identical.
Huang Ming also has a presence—a "beingness" about him—that is so touching. He will take the time to connect and speak to both poor and rich—he doesn't discriminate. He's present with all those he speaks to. I particularly love his "Sears" pants—aside from when he's wearing a necessary suit to address certain audiences, he dresses like his workers. A Himin tee-shirt and simple worker's pants. If you saw him walking down the street, you'd never know that he's a billionaire, owner of a solar/renewable energy company that has 35% of the Chinese solar market...
He's a simple man with a huge vision—one that includes YOU.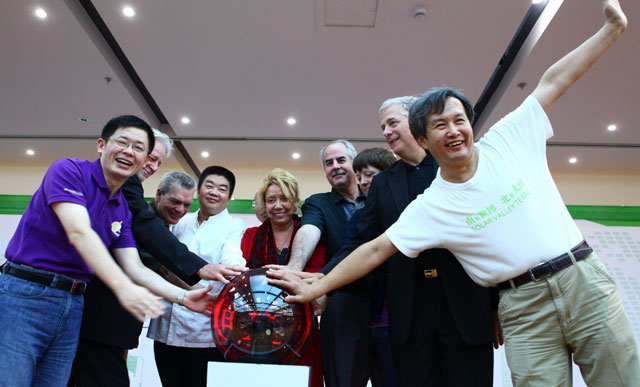 Any friend of mine, is a friend of his. He loves the Excellerated Business School for Entrepreneurs / Money & You network that has been developed in China (and other Asia Pacific countries) by our partners, The founder, Willson Lin, first met Huang Ming at a conference they were both speaking at about 7 years ago—and they were instant "brothers from a different mother".
When Willson introduced him to us—I thought he was a dream come true. After all, after becoming a Pachamama Alliance, Awakening the Dreamer symposium facilitator, I wanted to meet one of the most influential people in China so that we could have an impact on him or her on the importance of using renewable energy—little did I know that we would meet the "Bucky Fuller" of China... he has taught us so much more!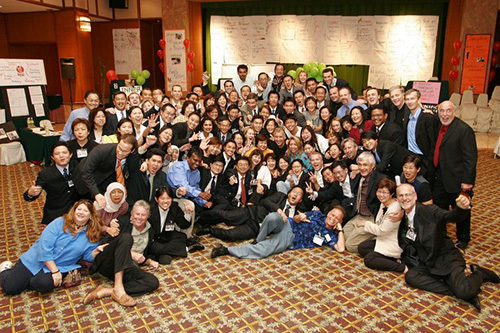 He has supported members of our Global Business Intensive program that was held in Shanghai in September 2012... Giving a couple of the participants of that program offices at the Solar Valley so that they could have a presence in China—later traveling to Hawaii to meet with the Hawaiian Native leadership and team to determine the feasibility of creating a Solar Valley on the islands.
Huang Ming will go to great lengths to support the expansion of the use of Renewable Energy—creating Solar Valleys through out the world... and I am helping... I have become an "official" Global Ambassador for the Solar Valley.
Come and listen to him speaking... if you have ever wanted to meet a billionaire with heart—a social entrepreneur who could be your next door neighbor, this is that man to meet...
If you have ever wanted to meet a billionaire with heart—a social entrepreneur who could be your next door neighbor, this is that man to meet...
We would like to see YOU participate along with this important group of entrepreneurs. In fact, it's our hope that—through this event—you will dramatically increase your leverage, realize the unlimited global potential in your business and expand the markets for your products and services!
Get Instant Access to the Free Webinar —and hear
how one person can change the world.
---
To get access to this free webinar,
please enter your
name and e-mail:
For more information on the Excellerated Business School® for Entrepreneurs,
visit: http://www.BSE2014.com
MALAYSIA:
Globe Success Learning Sdn Bhd
jacylyn@globesl.com
Mobile: +6016-227 0365 (Jacylyn Wee) / +6012-267 0365 (Terence Tan)
Office Phone: +603-7980 6922
USA:
Excellerated Business Schools®
admin@excellerated.com
Office Phone: + 1-619-224-8880