Huang Ming
---
---
Chairman of Himin Solar Co., Ltd. & Chairman of HIMIN Clean Energy Holdings Co., Ltd.
"I HAVE A DREAM" by Huang Ming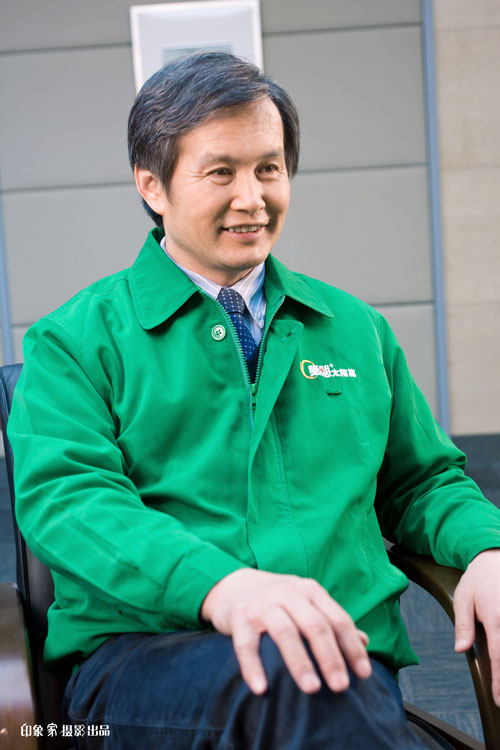 I have a dream of people devoted to renewable energy sources around the world.
For blue skies and white clouds for the next generation.  That truly quality products can be used to realize renewable energy substitution.
I have a dream that one day throughout the whole world, renewable energy sources will achieve a dominant position in the world.
I have a dream that one day all the people in my country, and that all global citizens will know about solar energy alternatives and make full use of them.
I have a dream that one day the solar industry will be as advanced as the IT industry, and as mature as the electric home appliances industry, and as large-scaled and automated as the automobile industry.
I have a dream that one day the sky will be much bluer, the water will be more cleaner and clear; that our homeland will be full of sunshine, be peaceful, with no wars.
I have a dream that one day the next generations will chase each other happily in the bright sunshine and fragrance of beautiful flowers, that a green civilization will be spread to every inch of the Earth. My fellow citizens let us join together, to create the blue sky and white clouds for the next generations, making use of truly quality products to realize renewable energy substitution.
Solar Valley in China Appears in this upcoming documentary:
See Huang Ming's presentation on the Solar Valley and his "Dream", and what has become reality… click here for details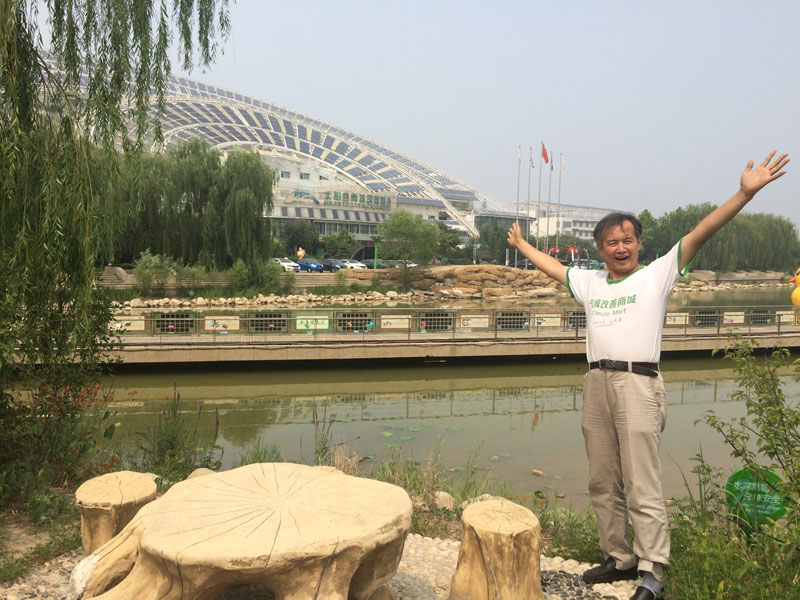 Accomplishments:
-Vice-Chairman of the International Solar Energy Society (ISES)
-First Chinese entrepreneur to be invited to speak twice at the U.N.
-Deputy of 10th and 11th National People's Congress of People's Republic of China
-Main proposer of China's "Renewable Energy Law"
-Praised as founder of the "Chinese solar energy industry" by international renewable energy sector..
-In September 2008, successfully elected as Vice-Chairman of the International Solar Energy Society.
-First Chinese leader of the International Renewable Energy Authoritative Academic Institute.
-In September 2010, on the Fourth International Solar Cities Congress, Huang Ming introduced the "micro-emission earth strategy" to cope with two major global problems: energy and the environment.
-Based on his contributions in the field of renewable energy, in March 2007, he was awarded the "China Renewable Energy Award for Outstanding Contribution" by the World Wildlife Federation.
-In 2011, he received the highly prestigious "Right Livelihood Award" in Switzerland.  This was the first time that a Chinese entrepreneur has ever won the award.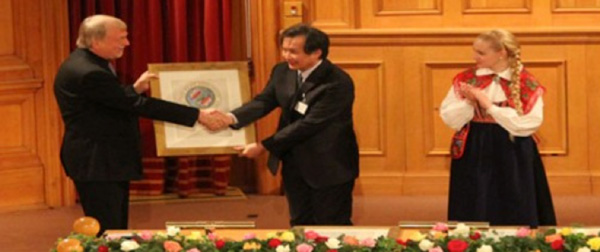 Global Leader of the Fifth Wave
Having created the world's leading renewable energy, science and technology R & D facilities, HIMIN has built two major micro-emission and low-carbon sample demonstration projects: HIMIN Solar Valley – the global urban example for the next 50 years; and Solar Utopia Garden — the global human habitation example for the next 30 years.  During the fourth session of the International Solar Cities Congress in 2010, HIMIN introduced the new concept of "Micro-Emission Earth" regarding energy saving and emission reduction, which will solve the two major global problems:  energy and the environment, gaining the recognition and gratitude of all nations.
Company Profile
Himin Solar Co., Ltd is a global leader in the solar industry. The Himin brand was presented with the honor of being a "Famous Trademark" in China and China's "Environmental Label Product". Its main business includes: renewable energy products such as solar BBQs, solar heaters, PV power and lighting, solar energy solutions seemlessly integrated with architecture, high temperature solar thermal power, Wenping energy-saving glass, solar air-conditioning, and large scale seawater desalination.
At present, Himin has 623 national patents; has undertaken and is participating in 22 Chinese national projects simultaneously, to include  the national "863" project, the national science and technology research program, the state "torch plan" and many others.  Himin owns core technologies such as: interference coating, solar thermal power generation and sea water desalination solutions.  In 2009, Himin proposed a world leading solar technology: Solar 3G which includes many functions such as: adequate hot water, 24-hours supply with all-year-round hot water, and realized creation of a fully-automated solar system which has completely overturned conventional solar systems. Moreover Himin combines solar hot water supply with solar heating and cooling at its optimum, leading the world solar industry into a new era.
Pioneer of World Solar Industrialization
Normally, commerce is treated as being in opposition to environmental protection. The Himin Solar Valley created by Himin Corporation has developed a new approach where commerce and environment coexist harmoniously. It's a win-win proposition for the environment,  industries, and marketing.  Himin completed its industrialized growth in about ten years, while Western countries took 60 to 100 years.  Himin is pursuing solutions for global energy substitution to become the standard for sustainable development in renewable energy worldwide.
In May, 2006, Himin was invited by U.N. headquarters to introduce the Himin model to more than 100 member states.  Because the Himin model provides the world with a great example and model for  renewable energy development, in September, 2008, Huang Ming was elected vice president of ISES and became the first Chinese person to assume the leadership of this world famous renewable energy academic institution.
Himin has attracted great interest from international organizations, and has won the recognition, respect and positive mention of world leaders and global experts in renewable energy to include U.S. President Barack Obama, Swedish Prime Minister Fredrik Reinfeldt, German Chancellor Angela Merkel,  former president of the International Solar Energy Society (ISES) Monica Oliphan, and the President of the European Union.  More than 50 international media agencies have reported on the positive contributions that Himin has made to society, to include: CNN, Reuters, ZDF and Business Week. This reporting has improved China's negative reputation in energy and environmental issues; and it has turned Himin into a respected international brand that has brought it major business from around the globe.
Champion of China Green Energy & Proponent of Environmental Laws
Leader in Setting Standards for China's Solar & Thermal Applications
Himin's solar testing center was set up in October 1997.  Today 20 Himin laboratories test more than 1000 items from raw materials to whole units.  In January 2009, Himin's testing center passed the CNAS certification and was recognized by the government. It is now considered the national authority testing institute, and it's reporting has been recognized by 45 trading countries to include the U.S., Australia, UK, Japan, Germany and others.
Himin Solar Valley
Himin Solar Valley is located in Dezhou – approximately 1 hour from Beijing. Total area for Himin Solar Valley encompasses over 3,000,000 square meters.  It has become China's largest geographic zone for the solar industry. A specific strategic promotion committee with the Mayor as its leader has been established in Dezhou to speed construction of the Solar City and Solar Valley.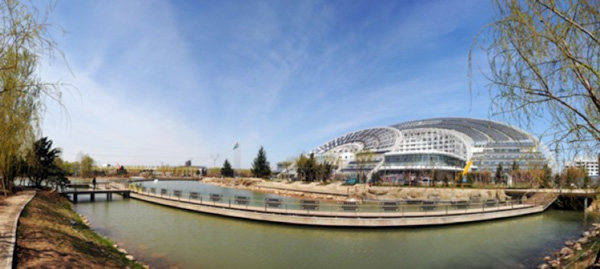 In 2013 the value of Himin Solar Valley was considered to be 50 billion RMB (8 billion 48 million U.S. dollars)  When all proposed projects are completed, the  projected annual worth of Himin Solar Valley will be 100 billion RMB (16 billion 97 million U.S. dollars.)  At that time, Himin Solar Valley will become the word's largest solar industrial area.
Himin provides far-ranging support for solar manufacturing, solar technology R&D and personnel training.  As a result,  the Solar Valley has increasingly become as prestigious and famous as the Silicon Valley of America.
The Himin Solar Valley has 9 major centers, each of which themselves are already the largest in the world. Himin Solar Valley  encompasses: a renewable energy manufacturing and logistic center, R & D and test center, conference and exchange center, education and training center, solar popular science exhibition center, tourism center with the world's first  all-solar hotel, exhibition center for low-carbon science and technology, low-carbon human habitat demonstration center and low-carbon international business center.
Introduction of Sun-Moon Mansion
Micro-E Sun-Moon Mansion (abbreviated to Sun-Moon Mansion) is the landmark building of the Solar Valley and in the solar field.  It is the world's largest solar building – its total area is 75,000 square meters. On September 1st, 2008, the headquarters of Himin Solar Co., Ltd was established there.
Sun-Moon mansion can be used for exhibitions, scientific research, office, conferences, trainings and hotel. It realized the architecture integration with solar hot water providing, heating, cooling, and PV technology. The energy-saving rate is over 70%, and with the addition of solar heating and cooling, the energy-saving rate is up to 88%.  Himin not only improves the solar technology application standards but also develops an abundance of solar series products which intellectual property is owned by Himin.
In September 2010, the 4th ISCC was held in the headquarters of the Himin Solar Valley.  Himin bested larger competitors like the USA, Japan, Italy and other countries, to host the 4th ISCC.
Huang Ming recently proposed using solar thermal energy to satisfy thermal needs in industry, agriculture and daily life in a large scale.  He has worked wholeheartedly to promote the substitution of thermal energy with conventional energy, and this strategy had been listed in the development  of China's state renewable energy resources plan. He has also created the first timetable for energy substitution on behalf of all people. As he envisions it, there will be several phases, the first one is the "Recent Substitution Timetable": by 2020, renewable energy will substitute 25% of conventional energy, including 12% solar energy. Then the "Metaphase Substitution": by 2040, renewable energy will substitute 55% of conventional energy, including 25% solar energy.  Finally, "Future Substitution": by 2060, renewable energy will substitute 90% of conventional energy, including 50% solar energy.
Dedicated to a Profound Social Public Cause
For many years Huang Ming (now through Himin) has lived by the motto: "appreciate nature and contribute to society".  He has actively taken social responsibility to the corporate level and is devoted to this public cause. Huang Ming adheres to the concept "Industry serves the Earth. Positive concepts rejuvenates each country".  He was selected as "China Charity Character" by China Charity Federation in July, 2007. Himin donates to schools with poor resources and other disenfranchised groups. In 2006, Himin launched the "solar bathroom project for rural poor resources schools" with Lifeline Express.
Himin is now actively working with partners like Dame DC Cordova to expand to other regions such as North, Central and South America – Himin is always looking for like-minded Social Entrepreneurs that are in alignment with Himin's vision, values and commitments.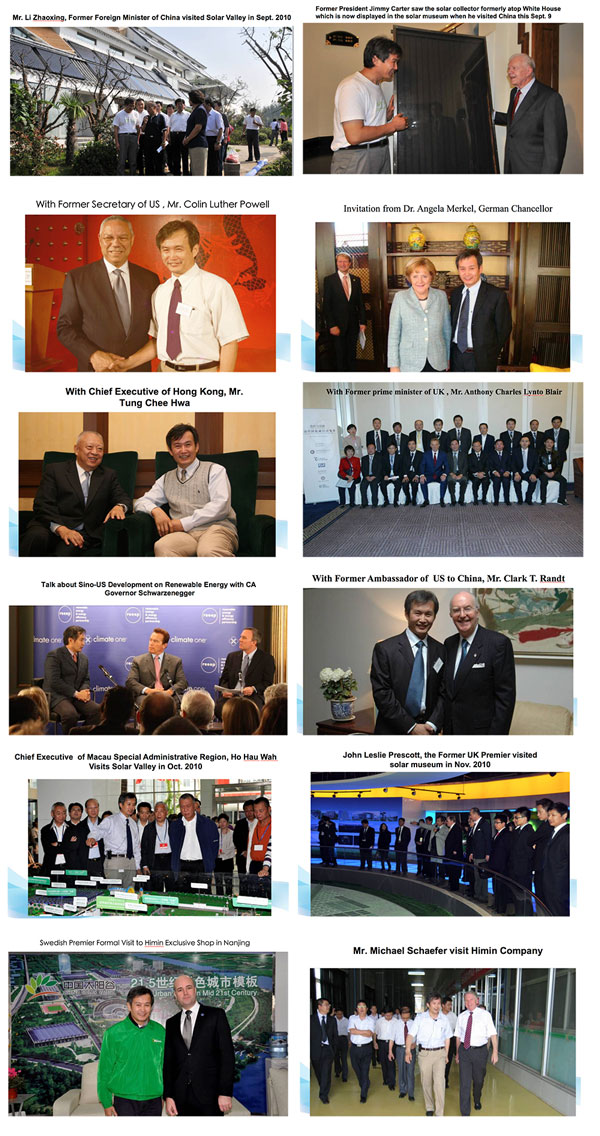 Himin has created more than 100 solar projects globally.  Here are some some examples:
With an annual production capacity of 3 million water heaters, 20 million evacuated tubes, and 500MW photovoltaic products, Himin makes solar heating systems and solar power products more accessible to the average consumer all around the world. Our markets include Germany, America, Canada, Britain, Australia, Spain, Russia, Brazil, and Malaysia, just to name a few.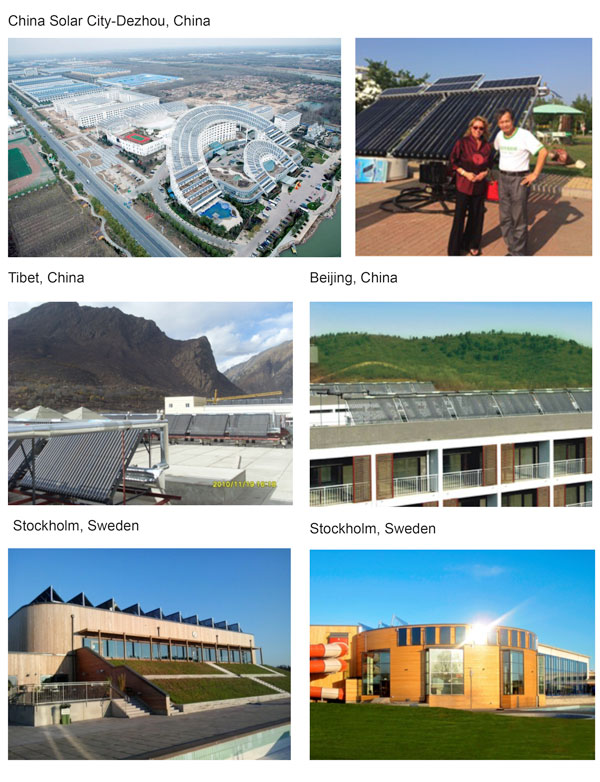 A Few of Himin Solar Products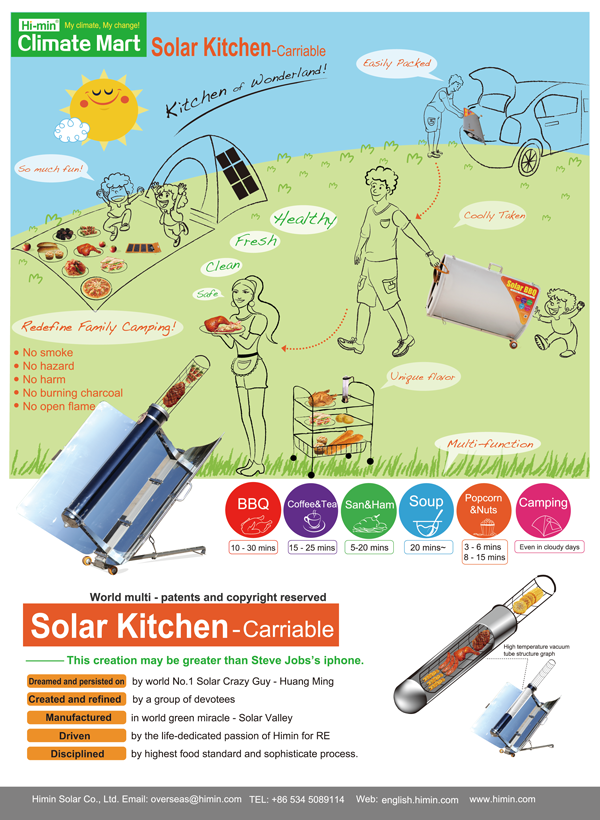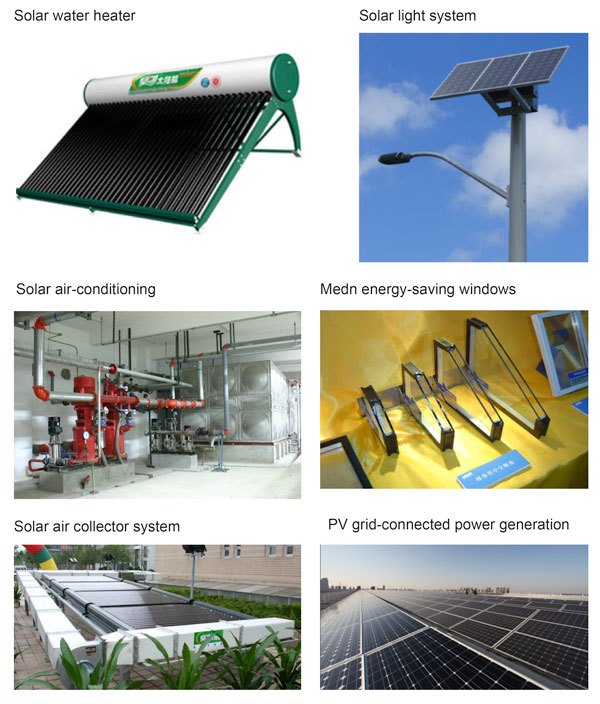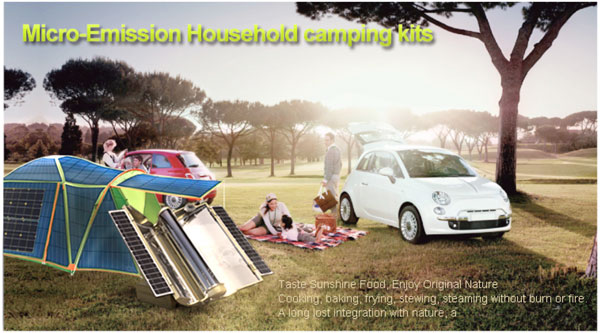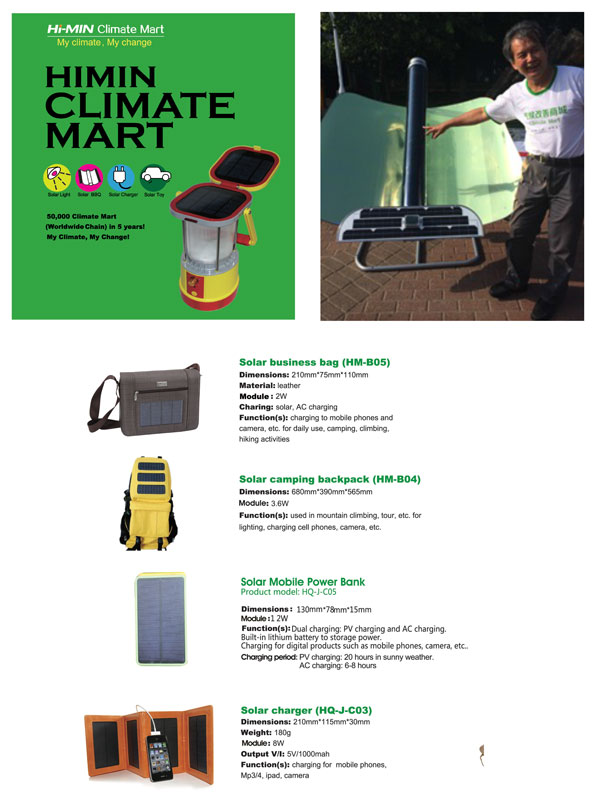 Resources / Articles Related to Trends